Vanessa Pinfold reflects on a moving new film about artist, Audrey Amiss.
I have never been asked to a film premiere before so I was really pleased to represent Mental Health Research UK – a charity where I am a trustee – at the opening night of Carol Morley's wonderful new film last week Typist, Artist, Pirate, King, a portrait of the artist, Audrey Amiss.
The distributors of the film asked mental health charities to help spread the word about this production which has been six years in the making. And I was more than willing to oblige as a quick review of the trailer showed a road trip movie with humour and a strong message about mental health. I said to my team at McPin, I thought the film would make me cry – and it did.
In brief, the film follows Sandra, a community psychiatric nurse, who reluctantly agrees to drive Audrey from London to Sunderland to finally display her artwork in a gallery, with a few twists and turns. It is also an exploration of two women's struggles and strengths.
That was a key take home for me – the relationship between the professional and the patient which shone a light on humanity and the struggles and strengths of both characters. On show was kindness, madness, compassion, sorrow and loss, hope and the importance of person-centred mental health support.
It is a really moving and powerful film. For me particularly because it links my memories to dear friends, some who are no longer with us, having died young. Typist, Artist, Pirate, King centres on Audrey Amiss, who died in 2013. It gives her a voice and profiles her work.
The title comes from Audrey's passport as her declared profession. She was a talented artist from Sunderland who through trauma, and her experiences with the psychiatric system, never managed to share her creativity with the world. That caused her immense pain as her diaries and pictures reveal.
Through this film we glimpse part of her journey – and it opens up lots of conversations about mental health along the way too. It's a story of a women with 'schizophrenia' although the character of Audrey in the film says: "I am not mentally ill".
The screening I attended, included a Q&A session. Carol Morley, and the leading-lady duo, Monica Dolan (Audrey) and Kelly MacDonald (Sandra) explained why they made the film the way they did. The film was made possible because Audrey's diaries and artwork were donated to the Wellcome Collection by her family.
Carol Morley did not want to promise she could make the film, even after the family saw the script, as funding the film was difficult. It got the go-ahead during the pandemic and she knocked on the family's door the week before filming began to share the news, which was emotional for everyone.
Dorothy (Audrey's sister) met Gina McKee who plays her in the film, but unfortunately died recently so will not see the film and its impact. Audrey's family and friends are supporting the launch and the feedback has been that they feel Audrey would have been very pleased with the portrayal.
This was good to hear, and seemed to me to be an in keeping with the values brought into this whole project.
Monica Dolan, who played Audrey, was asked what helped her get into character. She explained that although she could have read lots of things by psychiatrists about schizophrenia, she didn't and focused more on understanding Audrey through her diaries.
I was so pleased the immersion focus was on lived experience and the 26 days of intensive filming across many locations in Yorkshire paid off.  Audrey's diaries were a rich source of inspiration for everyone involved in the film and are shown throughout.
The diaries also informed what jacket Audrey's character would wear, what food went on the road trip and the colour palette for all the promotional work – including Carol Morley's nail varnish!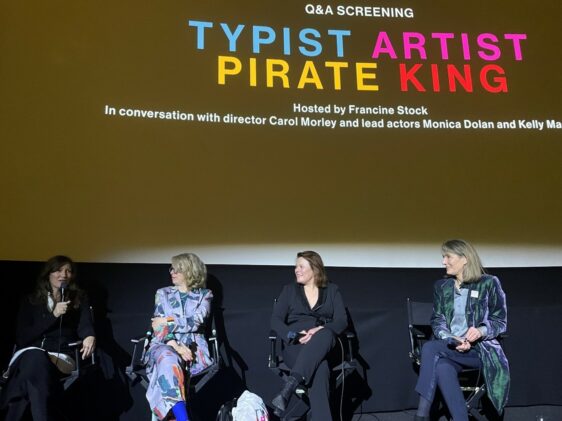 The cast were asked about wellbeing support on set. It was clear that Kelly MacDonald and Monica Dolan worked well together and supported each other.
There were welfare officers on set but small acts of kindness were what stood out. Each morning, as Monica Dolan was in the makeup chair, Carol Morley would draw felt tip scrawl on Monica's fingernails to help her get into character as Audrey.
At the end of the Q&A I spoke to Monica Dolan, thanking her for such a powerful portrayal and for acknowledging there are a lot of Audreys out there who have immense talents but struggle finding a voice or space to shine.
I sat next to a man who shared he was there because he liked Carol Morley's work and had his own mental health issues. I hope this film, in some small way, can help us all to encourage more mental health talent to be better recognised and valued.
It is clear making this film was an emotional journey for many people. The film felt very real to me but it would be good to know what community psychiatric nurses and people living with mental health problems feel about the portrayal that includes a visit to an old psychiatric hospital, an encounter with the police, sexual abuse and extreme personal distress.
I hope you will be able to see it because it is humorous, beautifully insightful, and so carefully made. Do get in touch and let us know what you thought.