What is the Young People's Network?
Could you help shape the mental health of children and young people?  
At McPin we think mental health research should always involve the people it directly affects – which means research must include young people. 
Our Young People's Network is made up of young people aged 13-28 interested in being involved in mental health research.  
If you think that sounds like you, sign up to the network and, when an involvement opportunity comes up, we'll send you the information directly to your inbox, so you're the first to hear about it.  
By joining, you'll get to hear about the latest opportunities to get directly involved and have a say in mental health research, either with McPin or our partners. 
You don't need to have any previous experience of research, and there are lots of benefits of getting involved.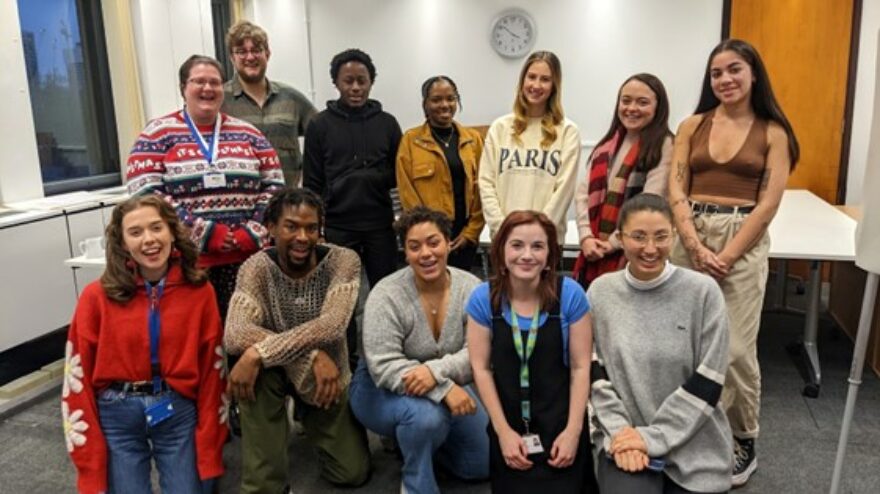 What does young people's involvement mean?
In our work, when we say involvement we mean that the people with lived experience of a research topic directly shape the research. 
People with lived experience are involved with designing and/or carrying out that research, alongside (or as part of) the research team. Involvement has a different meaning to participation in research. Participation can mean that individuals simply take part in the research, by answering questions and supplying data, for example. 
In the young people's involvement work we do, the role of the person with lived experience is to advise on the project to make sure that it is appropriate, effective and will be relevant for the people the research is trying to help. 
What is a Young Person's Advisory Group (YPAG)?
Young People's Advisory Groups are groups that offer longer-term involvement in projects and meeting regularly to discuss the research. These groups are usually made up of around 10-15 young people with different backgrounds and lived experiences. 
The makeup of a YPAG can differ. Sometimes for a specific project a particular experience is required. For example, experience of a specific mental health issue like anxiety or an eating disorder. 
When the YPAG isn't working on a specific project, or if research is more general, there is a wider variation in lived experience. For example, there is a McPin YPAG which meets every month to discuss McPin projects more generally all with different backgrounds and lived experience.  
Find out more about the network
Research involvement can take many different forms, so you can get involved in a way that suits you.  
There are several ways young people can get involved, like signing up to the mailing list, becoming a member of a Young People's Advisory Group or working as a co-researcher.  
Becoming a member of our Young People's Network means joining the mailing list in order to receive email alerts when there's a new involvement opportunity.  
This is the main way our young people stay up to date. Researchers or projects will then contact us if they want to involve young people in their research.  
Signing up to the mailing list doesn't mean you're committing to anything – it just means we will send you an email if an opportunity comes up. You can unsubscribe at any time and you don't need any previous experience of research.
Involvement opportunities can vary quite a lot. Sometimes it's as simple as speaking to a researcher for an hour about their planned research and providing a young person's perspective on it – is it easy to understand, is the right language being used, is it engaging for a young person etc.  
For example, you could have the opportunity to: 
Sit on a project steering group. This means attending regular meetings with other people who are running the research to discuss how it's going and anything that might need to be changed.

 

Speak to a researcher about their proposed project. This might be early on in a project so that you can help define the research question.

 

Become a member of a YPAG (see below). This is a group that meets several times throughout a research project to actively help shape and provide feedback on the project from a young person's perspective.

 

Answer a survey
Sometimes there are opportunities for young people to take on the role of co-researcher. This means they would help carry out the research for a specific project, which might mean doing some data collection and analysis.  
By signing up to the network, you'll have the chance to: 
Learn more about mental health and research

 

Increase your confidence and try new things

 

Gain useful skills that could be used to boost your CV for college, jobs and university

 

Meet and work with new people, including those with similar experiences to yourself

 

Work with and learn from researchers, academics and other mental health professionals

 

Be reimbursed for your time! The opportunities that we will tell you about tend to offer payment (please check individual involvement opportunities for details).

 

Really make a difference to how we understand young people's mental health. This is especially important at a time when young people's mental health services are in desperate need of change!

 
I joined the Young People's Network because it feels like I'm making a difference and it feels productive and mature. It's just fun.
Are you interested in involving young people in your research?
We regularly collaborate with people on their projects about young people's mental health.  
Our Young People's Network is made up of over 350 young people across the UK, including those with lived experience of mental health issues.
If you're interested in involving young people in your work, find more information on our Public Involvement page.
How do we support young people?
We have provisions in place and safeguarding training to ensure that we prioritise the wellbeing of the young people we work with.
Young people who get involved with us usually tell us they had had a positive, beneficial experience and enjoyed the opportunity to directly shape mental health research. However, the work that we do often involves the discussion of sensitive and challenging topics.  
Because everyone has different preferences, we think it is important to actively involve the young person to put their safety plan in place.  
When they first join us, we ask if they have other mental health support currently. This could be as informal as talking to a friend, a relative, or accessing therapy. This information helps us know what options are available if they have a difficult experience during one of our meetings. 
We also work with them to find out what support we can provide. If someone has a particular request (for example, perhaps they find a particular mental health topic difficult), we will offer to discuss the different options available to them (for example, as listed under the 'during meetings' section below). We will offer an individual telephone or Zoom call to do this. 
In addition to our ground rules, these are some of the steps we take to help keep young people safe when working with us: 
We request to see everyone on camera at the beginning of the meeting, after which the chair will give attendees permission to switch them off if they wish

 

We give attendees advance notice of what will be discussed in meetings, including relevant trigger warnings

 

We ensure the primary focus of discussion is the research study itself, rather than people's personal experiences 

 

We offer a 1:1 debrief after meetings

 

We always have two members of staff attend each meeting so one team member is always available to support people individually in case of any issues

 

We ask for feedback after each meeting

 
Young people's ground rules and meeting tips
For the work we do with young people outside of meetings – such as opportunities sent to the network by email or through digital platforms like Slack and Basecamp – we take the following steps to ensure their safety: 
We discourage private messaging between young people and request that any unwanted messages are reported to us

 

We use trigger warnings in the subject line of emails and young people can opt out at any time if they prefer not to engage with a particular topic

 
If we're worried about someone during our work with them, we will always: 
Put that person's welfare and wishes first. We request an emergency contact from a trusted adult for each young person that we would contact if there was ever a significant concern.

 
Try to adapt meetings to make sure they could still be involved. Depending in the situation we might suggest they step away from the study for a time.

 
Mental Health Support
If you would like support for your mental health, please access our Support Page
Our Young People's team
Rachel Temple
Public Involvement in Research Manager (Youth Involvement Lead)
Annabel Walsh
Public Involvement in Research Manager
Davino Beckford
Peer Research and Public Involvement in Research Officer
Emma Garavini
Youth Public Involvement in Research Officer
Roya Kamvar
Senior Public Involvement in Research Officer
Rachel Temple
Public Involvement in Research Manager (Youth Involvement Lead)
Rachel is a Public Involvement in research manager at the McPin Foundation, having joined the team as a trainee peer researcher in 2017.
She leads McPin's Young People Advisory Group and the wider young people's network, and is passionate about ensuring meaningful involvement of young people in mental health research in ways that are comfortable, accessible, and engaging.
Rachel has led the young people's involvement on several projects including the Mental Health National Gallery Audio Tour project, and Agency & Identity for Mental Health.
She currently helps manage an online peer support group for obsessive compulsive disorder.
Annabel Walsh
Public Involvement in Research Manager
Annie joined McPin in June 2022 to lead our collaboration with University of Birmingham Institute for Mental Health developing a young people's research partnership. She was promoted in December 2022 to Public Involvement in Research Manager.
With an interest in early intervention and youth involvement, Annie inputs into the Young People's Involvement Team through work on specific projects, helping to facilitate YPAG meetings and getting creative with sharing youth involvement opportunities.
She has a PhD in Psychiatry and is a strong advocate for involvement of those with lived experience in all aspects of research.
Davino Beckford
Peer Research and Public Involvement in Research Officer
Davino joined the team in May 2020 as a Community Peer Researcher as part of the Black Thrive Lambeth Employment Project. Since then, he has become a Peer Researcher and a Public Involvement in Research Officer working with our Young People's Team and running coproduction workshops.
Having previously graduated with a BSc in Psychology, his role at McPin combines his passion for better the opportunities and livelihoods of Black and Queer people, particularly those from the most marginalised fringes of society, and systemic change, having worked on multiple projects with that area of focus.
Emma Garavini
Youth Public Involvement in Research Officer
Emma has a background in Psychology (BSc, MSc) and, before joining McPin in 2021, worked on a mental health helpline and mental health support worker.
She is based in the Young People's Team and works on several projects ensuring the voices of young people with lived experience of mental health issues are meaningfully involved in research. This includes early conversations with potential partners to advise on how we can collaborate, as well as supporting young people to join and stay involved in our groups. Emma has keen interest in the following research topics; suicide/self-harm, eating disorders, social media and LGBTQ+ mental health.
Roya Kamvar
Senior Public Involvement in Research Officer
Roya has done people-centred research across diverse sectors for seven years, and is experienced in a range of research methods including traditional and innovative, public engagement and citizen science.
At the core of Roya's lived experience is depression, anxiety, DPDR (De-personalisation and De-realisation) intersecting with neurodivergence and physical health issues. They joined McPin's PPI team in 2021, working on projects spanning youth to older age, and are setting up a new involvement network. Roya's research interests include depersonalisation-derealisation disorder, somatics and embodiment, eco-psychology, and intersectionality.
Resources
Young people's ground rules and meeting tips
Some useful information for young people joining a Network meeting
Young people | 21st February 2023
How can we improve school life for LGBTQ+ young people?
An infographic based on the Universal School Interventions project, from conversations with schools, young people and governors about how to make school better for LGBTQ+ young people
LGBTQ+ • Young people | 21st February 2023
How to give young people agency in mental health podcast
The Agency project explores young people's sense of agency during mental health interactions. This podcast shares what we've learned for better conversations.
Young people | 17th February 2023